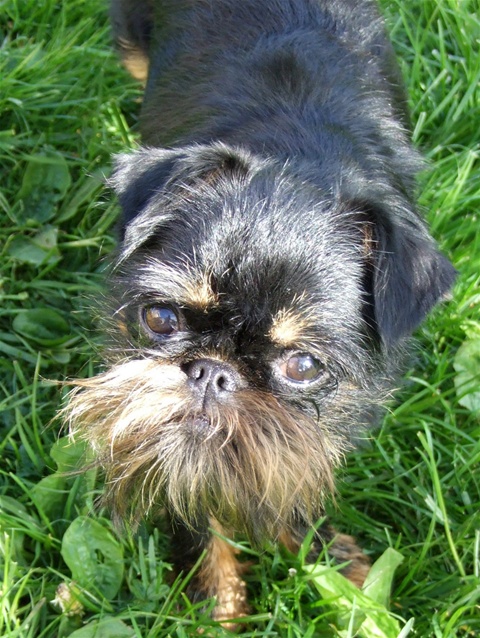 Grosserheimen's Brihanna NO41219/13 aka Hanna is a black and tan Griffon Belge. She comes from Anne Hagebø`s kennel in Åsane, Bergen. She has the same great temper as Indy.
She does not like showing herself quite as well as Indy, but have still done well in dogshows. As a junior she became bots junior winner and best of breed with certificate at Norwegian Miniature dog club (NMHK) show in Hadeland in June 2014. She became a Norwegian Champion at the Norwegian Kennel Club show in Ålesund on the 9th of May 2015 for judge Dr. Dr. Andreas Schmemel. She also becameSweedish Champion at Värmlandsutstälningen at Ränsäter on teh 25th of July 2015 for judge Hans Boelaars.
Hanna has passed all her health checks, heart ok, eyes ok and patella ok. Both eyes and patella are registered in Dogweb.
We are proud to announce that Hanna was mated with Jimmie Lundgren`s lovely Bôrje (Ru-Paul`s Peacock Party C.I.B, NORD UCH, SE UCH, FI UCH, NO UCH,NO JW-13, NO W-13, SE jW-13, SE W-13, NO W-14) on the 27th and 28th of November and is expecting puppies at the end of January 2016. Bôrje is also of coures health chekced, heart all clear, eyees an patella all cleared and registered in Dogweb.
For more picktures of Hanna please check the Norwegian page.